---
Résultats publiés en 2014 dans Journal of Membrane Science
Une équipe de recherche du laboratoire de Rhéologie et des Procédés a démontré l'efficacité des ultrasons comme moyen d'éviter le colmatage des membranes lors du procédé de filtration du lait.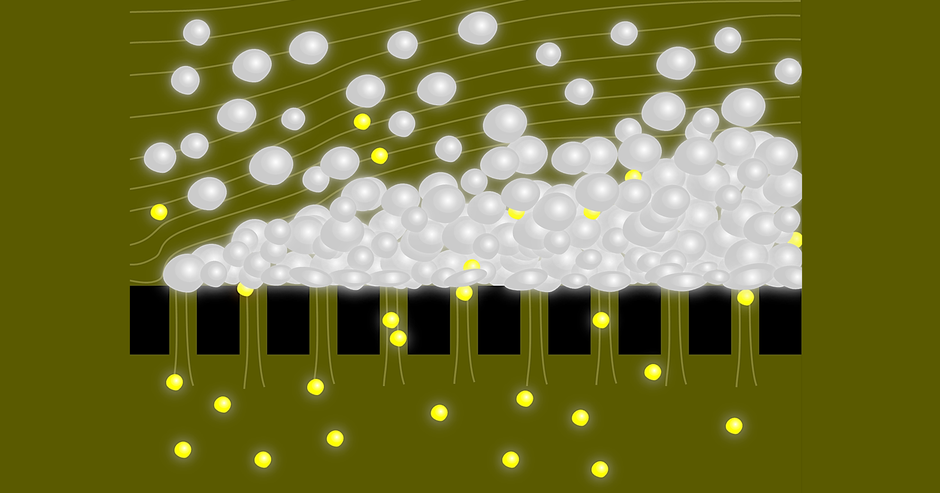 Grâce à un dispositif expérimental original basé sur la diffusion des rayons X aux petits angles (SAXS), les chercheurs du Laboratoire de Rhéologie et des Procédés et leurs collègues ont pu suivre en temps réel de l'évolution de suspensions de micelles de caséine de lait lors d'un procédé de filtration membranaire.
A l'échelle nanoscopique, ils ont observé qu'une couche colloïdale dense se formait sur la membrane de filtration lors du procédé, maintenue par de fortes interactions entre les micelles. La formation de cette couche visqueuse et sa structure ont été étudiées en temps réel, et corrélées à une baisse importante du flux transmembranaire.
Des ultrasons pour rompre la couche de colloïdes
Lorsque des ultrasons de faible intensité sont appliqués, les observations nanoscopiques révèlent une nette déstructuration de la couche colloïdale dense à proximité de la membrane, et de manière simultanée, une augmentation significative du flux de perméation membranaire.
Ces résultats uniques pourraient trouver des applications intéressantes dans l'industrie laitière, où la filtration membranaire est largement utilisée et se heurte au problème majeur de l'encrassement des membranes.
Reference
---
Y. Jin, N.Hengl, F. Pignon, N. Gondrexon, M. Sztucki, G. Gésan-Guiziou, A. Magnin, M. Abyan, M. Karrouch, D. Blésès. Effect of ultrasound on cross-flow ultrafiltration of skim milk: characterization from macro-scale to nano-scale, J. Memb. Sci 470 (2014) 205-2018.